World Environment Day was celebrated on June 5, 2013 at Salem Steel Plant with this year's theme of 'Think. Eat. Save' which aims to encourage reduction in wastage and saving of food. On the occasion, General Manager (Finance & Accounts), Shri N Tamilarasan, hoisted the Environment Flag in the presence of S/Shri JC Mahapatra, General Manager (Personnel & Administration), PK Mishra, General Manager (Works), G Viswanadham, General Manager (Projects), AK Jaiswal, General Manager (Maintenance), senior officers and employees.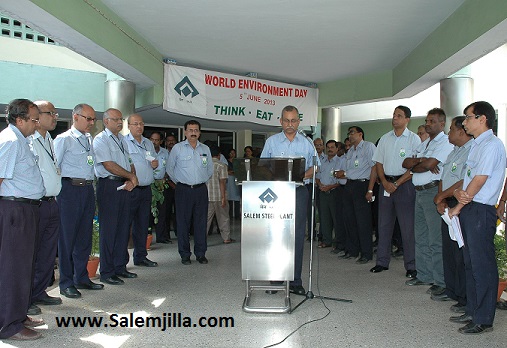 Addressing the gathering, Shri Tamilarasan said that it calls for improved awareness of the environmental impact of the food choices made by us and take informed decisions to reduce wastage of food, in order to not only save money, but most importantly to ensure equitable distribution so that no one goes hungry. He elaborated that if food is wasted, it means that all the resources and inputs that have been used in the production of food are lost without any gain to the society.
Shri Tamilarasan urged Salem Steel Collective to take steps for protection of environment by reduction in rotting of wasted food which creates methane, one of the most harmful greenhouse gases that leads to climate change. He also enthused the collective to save food which will go a long way in making it available to the deprived ones and ensure equitable and sustainable development. Employees took pledge to improve the environment by adopting positive steps for reduction in wastage of food, conservation of water and energy etc.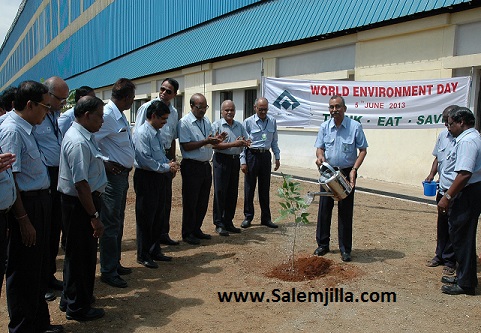 A mass tree planting programme was also conducted in which 100 saplings were planted by the officers and the employees in works premises of the plant.