"Salem Municipal" council was constituted.on 1st November 1866. It is therefore now celebrated as Salem Day. Tarunam, a member institution interested in the development of Salem, was celebrating it associating itself with various organizations for the past couple of years. This year also the above cited institution and groups are celebrating the same with a view to create an ecological and social awareness in and around Salem.
The history of civilizations from 4000BC to 40000BC was recently discovered in Yercaud. Evidences of a greater stone age civilization in and around Salem was discovered by him. A recent treasure finding around Salem makes it clear that Roman establishments flourished here in timeStalwarts like Rajaji, Ramasamy Mudaliyar, Semmandapatty Venkatappa Chettiar, have been chairmen of the municipality. Graves of people like Robert Bruce Foote who is known as the father of archeology and who tooks before Christ.
Y-Collective, a group of youths from Salem is inviting like-minded institutions, groups and organizations to the Salem day celebrations.
Date:  4th November 2012, Sunday.
Place:  TVN kalyana Mahal , Gandhi Road, Salem
Time:  09:00 AM to 05:00 PM
FREE ENTRY
Salemjilla.com is joining hands with them as a official media partner.
Below is  list of events that are planned during the celebrations
1. "KNOW YOUR CITY" a documenting (Photography, Documentary and write up) event to highlight the heritage, culture, tradition, beauty, problems and places of interest of Salem, etc.
2. Display of old photographs related to Salem.
3. Singing, Dancing & Essay writing on topics related to Salem.,
4. Documentaries and research articles about Salem in areas such as health & sanitation, education, traffic, environment etc.
5. Adopt a place of public interest such as ponds, lakes, parks, bus stand etc and maintain it for a period of 1 year.
6. Tree plantation, Blood donation.
7. Programs on local TV channels.
8. Traditional food festival.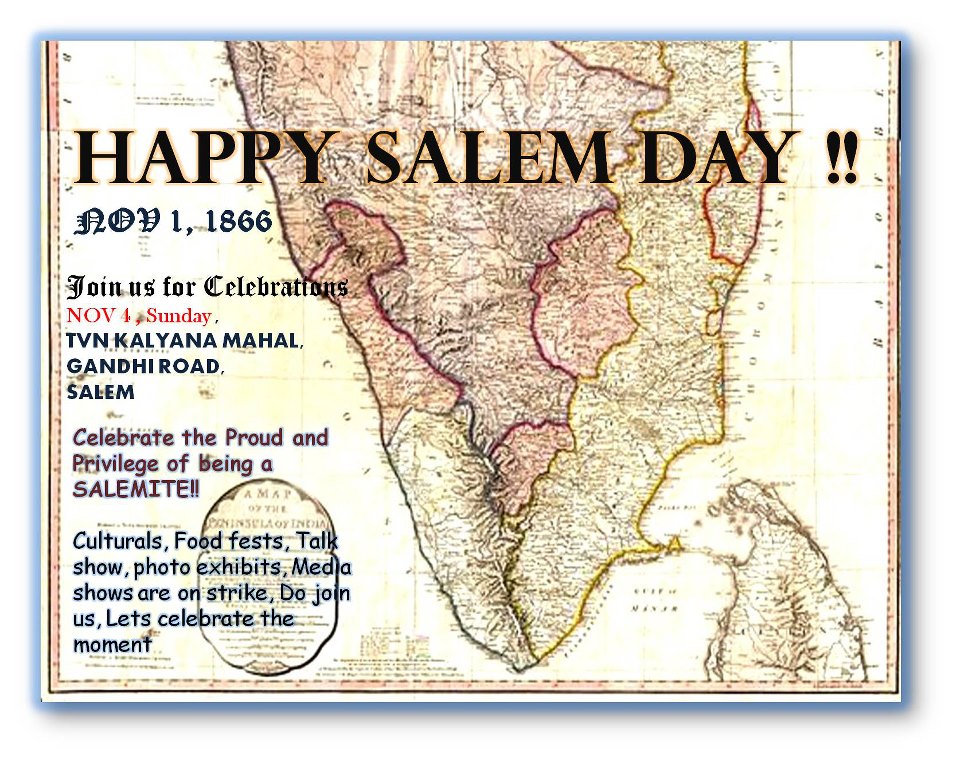 Views and opinions are invited for the same.
For more details contact: +91-80569 68787, +91-96003 29935