The OECD Global Youth Video Competition 2012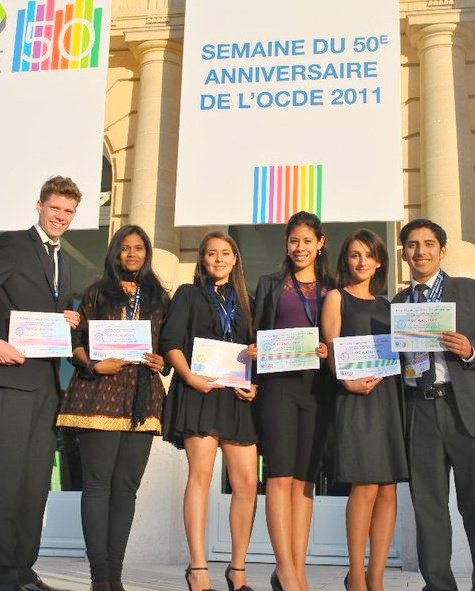 With the mission to promote economic and social well-being globally, Paris-based Organisation for Economic Co-operation and Development (OECD) organised short video competition for youth around the world for their 50th anniversary last year. Sona College of Technology's IT student Ms R Vidhya Priyadarshini bagged the Special Mention Prize for her video 'Tomorrow in Our Hands' that answered 'What is Progress?'. She was invited to attend the OECD forum that was chaired by US Secretary of State Ms Hillary Clinton and the prize included an all-expense paid trip to Paris, France.
Similarly this year also OECD is eager to hear Youth's Ideas and Ms R Vidhya Priyadarshini along with her five fellow winners from Peru, Colombia, Ukraine and Australia have been asked to organise the event as Youth Co-organiser for The Global Youth Video Competition 2012. She says, "The challenge and opportunity, as well as the OECD's motivation to listen to youth on global issues, was what drew me to the previous OECD Video Competition. Youth is traditionally characterised by a fresh, fearless, positive and highly energetic approach that can help us to achieve our goals in life. That's the reason why around the world we are saying 'Youth Can!' By nurturing and channelling this enthusiasm, young people can build a better future with better policies. The OECD provides a platform for showcasing your ideas to the world. Now pool your thoughts into a video and let your idea be the reason for the world to smile tomorrow!"
The theme of this year's competition is:
What are the big issues in education today?
Learning the right skills to get a job
Bridging the 'digital divide'
Tackling inequality in access to education and training
Inspiring creativity and innovation
… Or something else?
Anyone aged between 18 and 25 years can participate by making a short video (3 minutes max.) and submit it within March 31st 2012. The Winners get an all-expense paid trip to Paris, France to attend the OECD Forum on 22-24 May 2012.
For more details, regarding the registration and submission of your video visit: www.oecd.org/videocontest or
Contact Vidhya Priyadarshini at infozinevidhya@gmail.com
Watch the short video directed By Vidhya Priyadarshini who won the 2011 contest.