AN APPEAL FOR BUILDING BRIDGE OF FRIENDSHIP WITH ALL SALEM IN THE WORLD.
Similar to our city, Salem exists in 24 other states in the US. Places named after Salem do exist in Sweden, Germany, and South Africa also. Another interesting point, is that Oregon State in the US has another namesake in India -Madras (renamed Chennai).
During 1960′s Mr. Hugh Morrow, a Rotarian and a city librarian in Salem, Oregon, USA, and Dr. Busnagi Rajannan, a well known Librarian of Salem, Tamilnadu, India corresponded with each and proposed the establishment of a Sister city programme between the two cities.
Dr. Rajannan visited Salem, Oregon in the US in 1962, and was received by the Rotarians, city officials, senators, and the Oregon State Governor. During his visit, Dr. Rajannan was presented with a Key to the American City-Salem.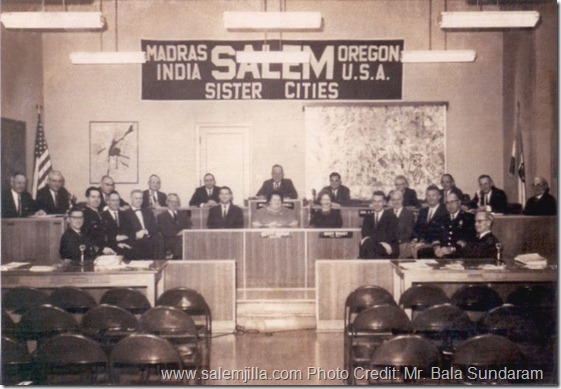 At this meeting the two cities were formally declared as Sisters. In 1964, the Mayor of Salem Oregon, US (Mr. Willarad C. Marshall) visited our Salem in Tamilnadu with his family. He was received by the Rotarians, the general public, and officials including the Collector, the Municipal Chairman and City Councilors. On his return he initiated a sister cities coordination committee there. Our Salem Industrialist and Rotarian J.R.Mehta had also visited our sister-city Salem in Oregon and enjoyed their hospitality and conveyed our good will towards them.
As a programme, the sister-city project did not continue beyond the exchange of these visits. So Dr.B. Rajannan was the pioneer of this Sister-Cities tie up between Salem India and Salem, America.
Now, for nearly 50 years, Dharmapuri K.Balasundram, a former resident of Salem, is maintaining his interest in this tie up and kept alive the spirit all these years. He is very keen to carry forward this as his mission in his life to foster relationship among all Salemites in India and America all these years ever since 1963 through his writings in the local journals in both Salem cities-India and America,with his association with Sister-Cities International (www.sister-cities.org) and People-to-People (www.ptpi.org).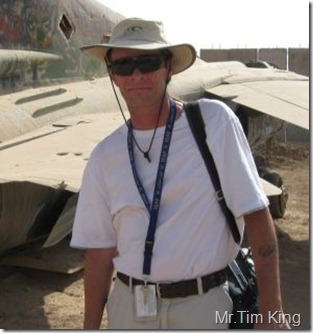 In the course of his efforts, he got contact with Mr. Tim King, founder of a web site-Salem- News.com and a popular TV journalist in our sister city-Salem, Oregon in the US.
Due to the mutual interest in between each other in connecting Salem Cities, he has been invited to make a visit to our Salem and enjoy our hospitality and to make a documentary on our city. This documentary will be projected to Salem in Oregon and in other US states including Alabama, Arkansas, Connecticut, Illinois, Indiana, Iowa, Kentucky, Mass, Missouri, New Hampshire, New Jersey, New York, Ohio, South Carolina, Utah, Virginia, West Virginia, Wisconsin, Michigan, Minnesota, Pennsylvania, North Carolina, Ontario,where places named SALEM exist.
To support the effort of K. Bala Sundaram, two people Mr.D.Thirunavukarusu , a businessman of Aurmugam Pandaaram & Sons an Importer & Exporter of Seeds and Spices , in Leigh Bazaar. and Mr.Praveen Kumar C, an Internet Marketing Professional and founder of Salemjilla.com joined hands with him to organise a host committee here in Salem to invite Tim King, as a representative of our Sister city -Salem in Oregon. This will help to promote friendship and cooperation between India and the US through people to people contact and to develop our skill in Citizen Diplomacy.Our aim is to foster relationship with all places named Salem in America, South Africa, Germany and Sweden with the support of like minded individuals and institutions, and international social voluntarary organisations here
This committee will be seeking help from like minded people, institution, business men and will look for sponsors to make his trip happen and utilize best of Tim's services to project our Salem.
This documentary will record the image that represent the area`s history, rich culture, various business community, different types of industry, educational institutions, Tourist places, museums, arts and sports. This project is not for profit,without any commercial or business interests but with a only object of building an international cooperation and friendship. and promote and project Salem.This will help build trade and educational cooperation with our counter parts in the outside world.
Interested people,institutions, organizations in our Salem are welcome to contact Mr.Arasu on mobile: 9443247822 Email: vaparasu@gmail.com, Mr Praveen on mobile: 9894834151 or Email: praveen@salemjilla.com Mr.K.Bala Sundram: 95 246 59 164 Email: kbsundram@yahoo.co.in
Address for correspondence: Aarumugam Pandaaram & Sons. 4th Road, Leigh Bazaar. Salem.
Depending on the support and response, a meeting will be arranged to form a committee to carry forward this friendship efforts by individuals institutions and organisations.
- Team Salemjilla.com