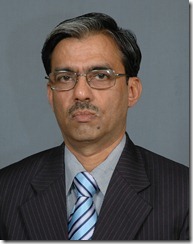 Shri Swaminathan Chandrasekaran (55), has assumed charge as Executive Director of SAIL, Salem Steel Plant on May 2. He took over from Shri Pankaj Gautam, Executive Director, who is on transfer to SAIL, Bhilai Steel Plant as Executive Director (Works).
Shri Chandrasekaran, a Mechanical Engineer from Annamalai University, began his career as a graduate engineer in Steel Authority of India Limited, Rourkela Steel Plant (RSP) in 1979. He was part of a special group that developed and implemented computerised management system in RSP and other SAIL plants under the UNDP added projects. He was instrumental in establishing a number of Standard Operating Practices (SOPs) and Standard Maintenance Practices (SMPs) in the operation and maintenance of rolling mills at RSP. He worked in various capacities and rose to the rank of General Manager Incharge (Steel), Rourkela Steel Plant.
In November 2009, Shri Chandrasekaran took the charge of Alloy Steels Plant, Durgapur as Executive Director. Under his leadership, last financial year Alloy Steels Plant achieved the best ever performance of 2,15,323 tonnes of liquid steel production which was 16% more than Annual Production Plan (APP) and 21% higher compared to 2008-09. Shri Chandrasekaran is well read with intensive training in Continuous Casting & Management Development programme in Germany and Turkey.
Shri Chandrasekaran has taken over the reins of Salem Steel Plant at a crucial juncture with rich experience in steel melting. At this significant point of time, after commissioning of steel melting facilites, Salem Steel Plant is poised for reaching greater heights under his leadership.
Press Release, Salem Steel Plant.