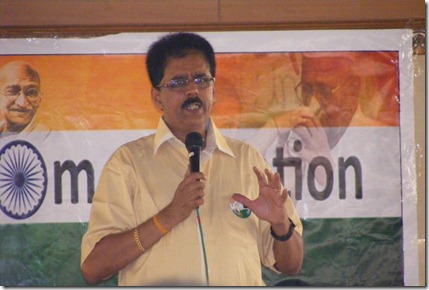 "FREE INDIA FROM CORRUPTION "is a voice raised by Social activist Mr .Anna Hazare has gained a huge mass support in all region of the country. Many youth mainly covering 18-30 years who are proclaimed to be future India are keen in raising their support for Anna Hazare by their chain mails, forums and group discussions of their own kind. Even some renowned persons in their regions joined their hands to support Anna Hazare and move india to a corruption free path under a single forum all over the country.
In our city with respect to "India against corruption" movement, Mr.Jayaprakash Gandhi, a well-known education consultant and analyst initiated a meeting on 17th April for taking suggestions and actions that can be done by our citizens of Salem to support Anna Hazare.  The Meeting was conducted in AVR Kalyanamandapam, Cherry Road. The strength of the meeting was about 345 and near about 75% of participants where college students and young working population. Many representatives from various clubs and forums participated in this meeting and extended their warm support for this movement and activities to be conducted.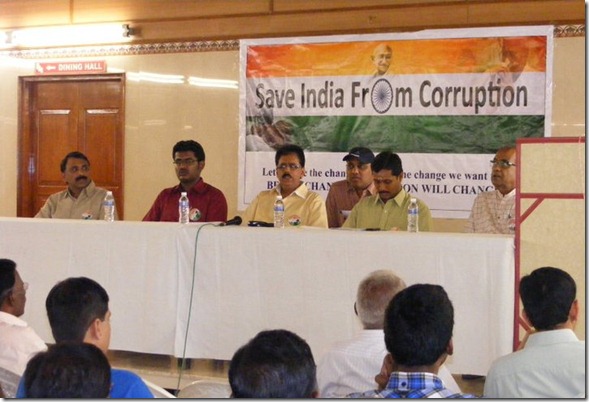 Mr.Jayaparakash Gandhi, Mr.Karunakaran (Dean-Sona College Of Technology) , Mr.Praveen Kumar ( SalemJilla.com) ,Mr.Prabakaran(an industrialist) , Mr.Senthil (Consultant) and many other Social activists participated and came out with good suggestions for biasing this event followed with Gandhian Principles and broadcasting the public support and to pass the Lok Bal bill making India free from corruption.
A resolution signed by all people participated in this event demanding the bill to get passed is sent to Government of India, carbon copied to all the political parties of both state and center.
Many Social activists, Professors, Freedom fighters, industrialists, students press and media Participated in the meeting.
Here is a news coverage of this event by Polimer Channel.

- Salemjilla Team