Toastmasters International is a non-profit educational organization that teaches public speaking and leadership skills through a worldwide network of meeting locations. Headquartered in Rancho Santa Margarita, California, the organization has more than 260,000 members in over 12,500 clubs in 113 countries. Since 1924, Toastmasters International has helped people of all backgrounds become more confident in front of an audience.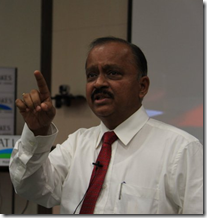 A demo meet for the launch of Toastmasters International in salem has been organized on 03rd April 2011 at Jairam Arts & Science college. "Students, Corporate employees and Business men  who have passion to become good public speaker and  wants to develop his leadership skill should attend this event" says Mr.T.Chendil Kumar, Toastamaster, well-known speaker & Corporate trainer.
This meeting is going to be all about the Introduction of Toastmasters Club in Salem and how it will benefit the members with a demo. The Area governors of Chennai Toastmasters Mr. J.Jayakar and Mr. Vekatesh will also be participating in this event along with the members.  Below is the agenda of this meet.
Date: Sunday, 3rd April 2011
Venue: Jairam Arts & Science College, Chinna Thirupathi, Salem.
09:00 – 10:00 – Registration
10:00 – 10:05 – Prayer
10:05 – 10: 10  – Welcome Note
10:10 – 10:45 – Toastmasters – Who, What and Why ? By T.  Chendil Kumar
10:45 – 11:45 – Demo meet of a Toastmasters meeting (Prepared Speeches, Table Topics and Evaluation) by Chennai Toastmasters & Members of Madras Toastmasters Club.
11:45 – 12:30 – Open Discussion  – Q&A and Prizes.
Registration is Free. Please contact Mr Praveen – 9894834151 or   Mr.Bala, Mobile – 9789182892 to book your seats in advance. You can also reach the Facebook group at http://www.facebook.com/home.php?sk=group_207051802642102
To learn more about Toastmasters International please visit.
http://www.t82.org – District 82 of India and Sri Lanka !
http://www.toastmasters.org – Toastmaster International